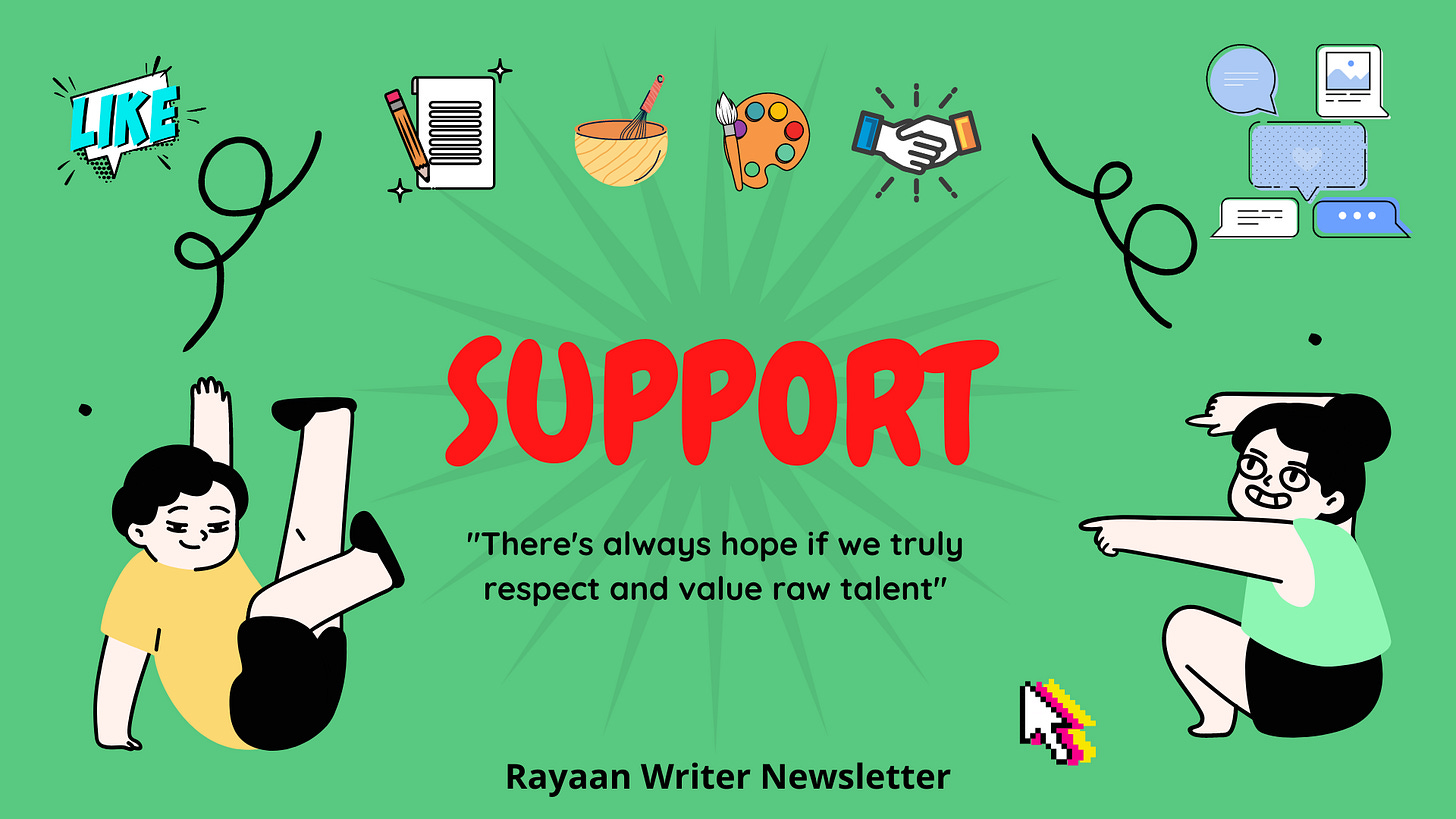 Most often, societal issues become a topic of discussion across social media only when someone big or famous is affected. I remember when so many people started putting out statuses, preaching their followers the importance of mental health, just because a famous Bollywood actor died by suicide. "I am here for you", "You can talk to me anytime", their statuses read.
Depression was cited as the reason for the actor's unfortunate demise. Depression had a face now — the actor — and we all wanted to talk about it. And just like everything else on the internet, this viral discussion had a short life span. The topic of mental health soon got lost as disgusting TV News channels spun the narrative into something else.
We don't talk about important things anymore. When the first phase of lockdown was announced in March, India had around 500 coronavirus cases. Today, over 160 days later, the second-most populous country has registered 3.5 million cases. The economy is in shambles. Over 122 million Indians have lost their jobs.
Yet despite the uncertainty surrounding us, we are still trying to face these testing times. We are finding ways to work from home. I have seen many of my relatives and friends — young entrepreneurs — adapting to the job market, doing their best to freelance or seek opportunities somewhere. They use social media to promote their work.
Instagram and Facebook have now become a tapestry for dreamers with hopes to grow and survive the vicious economic onslaught caused by the pandemic. Now, more than ever, it's important to support small businesses and entrepreneurs, independent creative artistes like writers, painters, musicians, stand-up comics, among many others. I recently came across this lovely post on Instagram by Platform for Artists. 👇🏽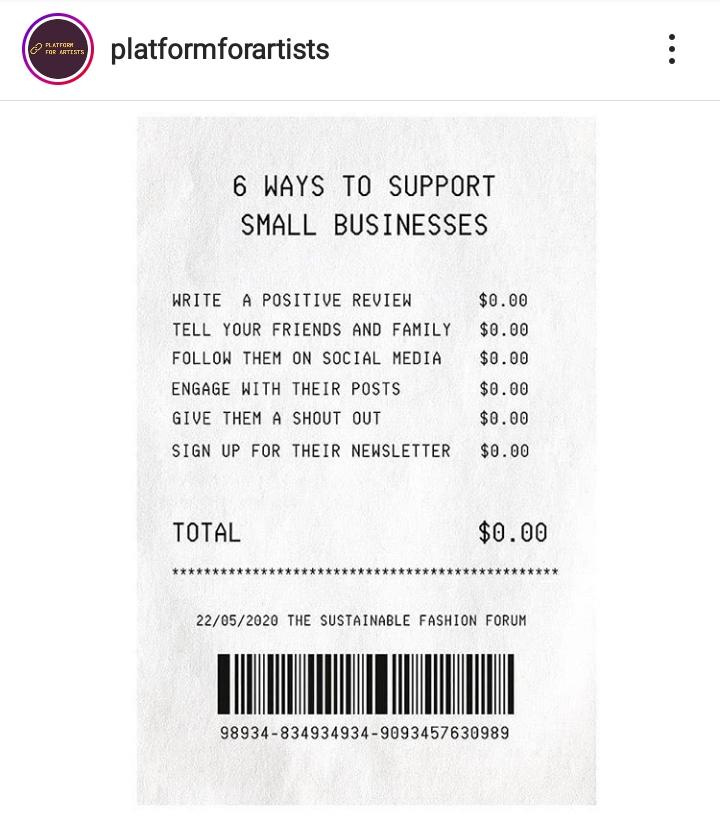 It made me realize that we don't have to strain ourselves to support one another. All we ever need to do is give our time. Know someone selling yummy meals from their kitchen? Then order. Know someone doing arts? Then buy. Know someone creating YouTube videos? Then watch, share and subscribe. Sometimes supporting people goes beyond showing support on social media. It means getting into action.
It means buying their products or services whenever possible. Try to do business within your close circle of relatives and friends. If it's good, then recommend it to others and offer positive reviews. Genuine and consistent support should become a part of our lives. If we have each other's back, we can surf the waves of these dark days and reach the shores of hope.
A new game plan
I have been learning a lot since starting this newsletter nearly two months ago. Though I haven't been consistent, I feel that I have done my best to write articles on varied topics (I promise to send out posts regularly). After trial and error, and learning from my fellow successful Substack Writers, I have decided to explore explanatory journalism. 👇🏽😅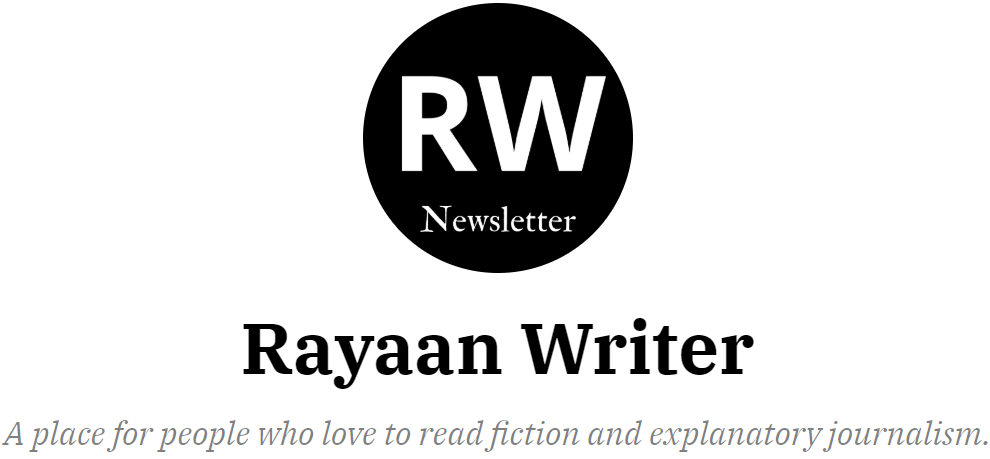 Subscribe to delight your mind with my world of fiction. I also aim to clear the clutter in your head by explaining the latest breaking news. 🤯
My newsletter includes the following sections:
Flash Back: A roundup of previous week's top news.🗞️📲

Page Flix: Short stories.📚

Click Smart: A compilation of interesting things across the internet.🌐❤️

Humans: Interviews with ordinary people doing extraordinary things.👥🌎

Mind Slice: Personal essays.💌
To become a paid subscription soon!
I have read plenty of stories on how newsletters have helped writers connect with more readers and have given a chance to earn money. I plan to start a paid subscription in the coming months, giving access to more exciting articles, and I can't do this without your support.
I'd be grateful if you share this with your family and friends. In this era of "Likes" and "Shares", a tiny digital shout out to your favorite content creator on social media will help them thrive. I hope to keep you entertained.😊🤞🏽
---
This marks the end of today's newsletter. See you soon! Stay safe, wear masks, wash your hands, and spread love. Feel free to forward this email to your family and friends. 😊❤️
---
To share this post as a web page, click the button below:
(To become a paid subscription soon!) Wish to read more? Sign up!
I'd be happy to hear what you think about this post.