Issue-7: How to save a newspaper?
10 years ago, The New York Times was dying. Now, it's minting money. Here's something we can learn.
Hello and Welcome to Rayaan Writer Newsletter. This is the Seventh Issue.
To improvise the quality, I decided to do a survey on the news reading habits of my readers. I'll be delighted if you can spare one minute of your time to do this.👇🏽
---
In the last edition, I promised to improvise the content I offer. This edition marks my first attempt. I have written news that matters, curated a list of exceptional information available across the internet, and also tried out new graphic banners. Do share this email with your family and friends.❤️😊
---

The New York Times is often labeled as the most prestigious newspaper in the world. Its style of journalism is unmatched. Journalists, like myself, always dream of working here or at least see their bylines appear here once.
Despite its consistency to produce good journalism over the decades, its print business was dying. In the 2000s, the New York Times was close to shutting down for good. It had over a billion dollars in debt. But now, ten years later, the tables have turned.
It has zero debt and its making... tons of money. How did they do it? Their growth story isn't just a necessary read for journalists or media owners but to every entrepreneur.
Once upon a thriving industry…
Before the birth of the Internet or social media, in particular, newspapers were a thriving business. Media moguls minted money through advertisements. Retailers, automobile makers, and the like spent lavishly on print ads. But just like anything in life, the print industry soon saw a decline. Media baron, Rupert Murdoch, is famously quoted for calling newspapers as "rivers of gold... but sometimes rivers dry up".
Social Media Impact
The growth of TV news channels and the birth of tech giants like Google, Facebook, or WhatsApp slowly started affecting the print industry. The news was available in just a click. Businessmen said "A-ha!" and started pouring all their money on digital advertisements instead. But the ad revenue didn't necessarily reach the pockets of digital news owners as Google or Facebook were mostly benefitted.
Newspapers responded by reducing the cost of advertisements in a bid to continue retaining their customers. They also downsized their teams, ending up firing good journalists. Such a move obviously proved expensive as newspapers in India or the rest of the world are now struggling to survive. Adding to this misery is the coronavirus pandemic which has forced several small print papers to shut down.
A Story of Survival
Just like most of the major newspapers across the world, in terms of circulation numbers and revenue size, the New York Times had debts, a handful of bad investments, and other big responsibilities.
This is how their balance sheets looked at the beginning of the previous decade.👇🏽

The stats reveal how bad the paper was performing. But consider its current statistics.👇🏽

It has zero debt, it has diversified and invested in producing high-quality journalism.
Growth Lessons
The transformation of The New York Times from a struggling newspaper to a thriving business is exceptional. The paper focused on:
High-quality journalism
They constantly invested in producing quality journalism. They got the best journalists working for other publications and hired them with a better salary package. While other publications focused on firing journalists, The New York Times hired more and more reporters.
At the end of the day, the paper just followed the most essential and obvious thing; focus on journalists and journalism. Journalists are the heart and soul of a publication. If you don't take steps to save them, then your paper is as good as dead.
Hire the best person who is willing to learn and help your company thrive. Offer an exceptional atmosphere for growth. Never let down your employees. Teamwork matters.
Improvising Tech
The next strategy was increasing efficiency and productivity. The paper invested heavily in improvising its website and the operational tech required to run a paper. They gave journalists the necessary tools that would help them to work better. They trained journalists to become better reporters.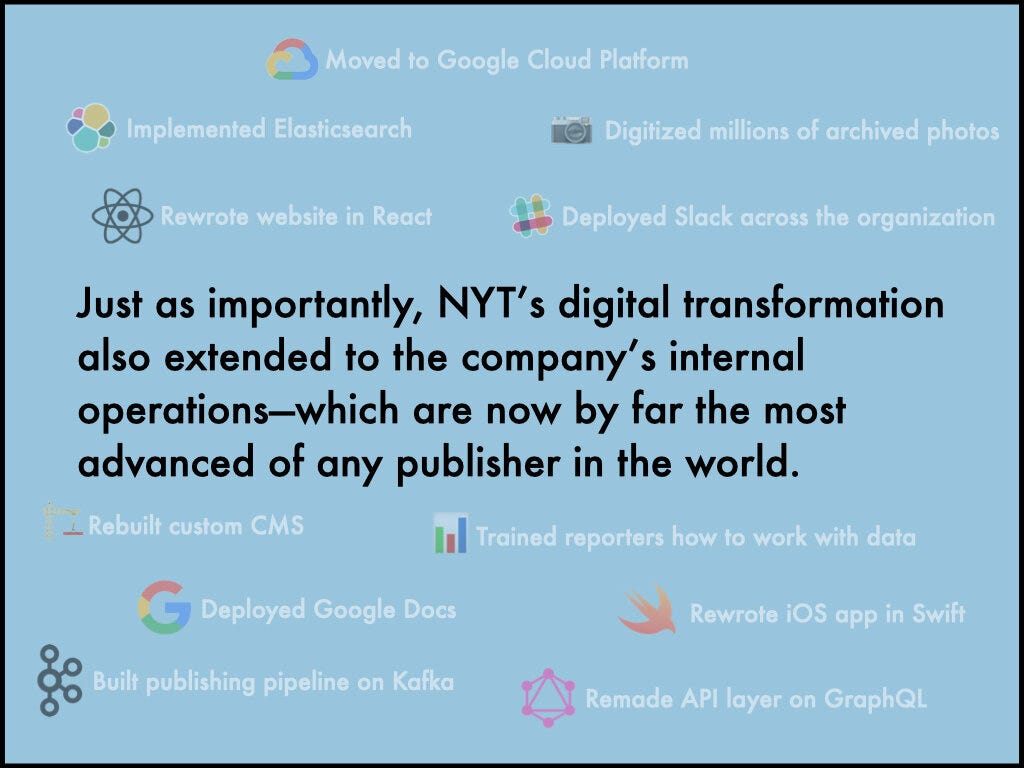 They used Slack, increased social media engagement, and enhanced their content management system (CMS). They implemented the subscription model to attract readers. The New York Times smartly tapped into this revenue model as soon as it figured that print was dying.
Offer tools that propel your team to grow. Diversify and keep up with the latest trend in your sector. Upskill employees. People are willing to pay for quality content. There will always be a customer for your business. Work your ass off to find them.
How Ad Model Works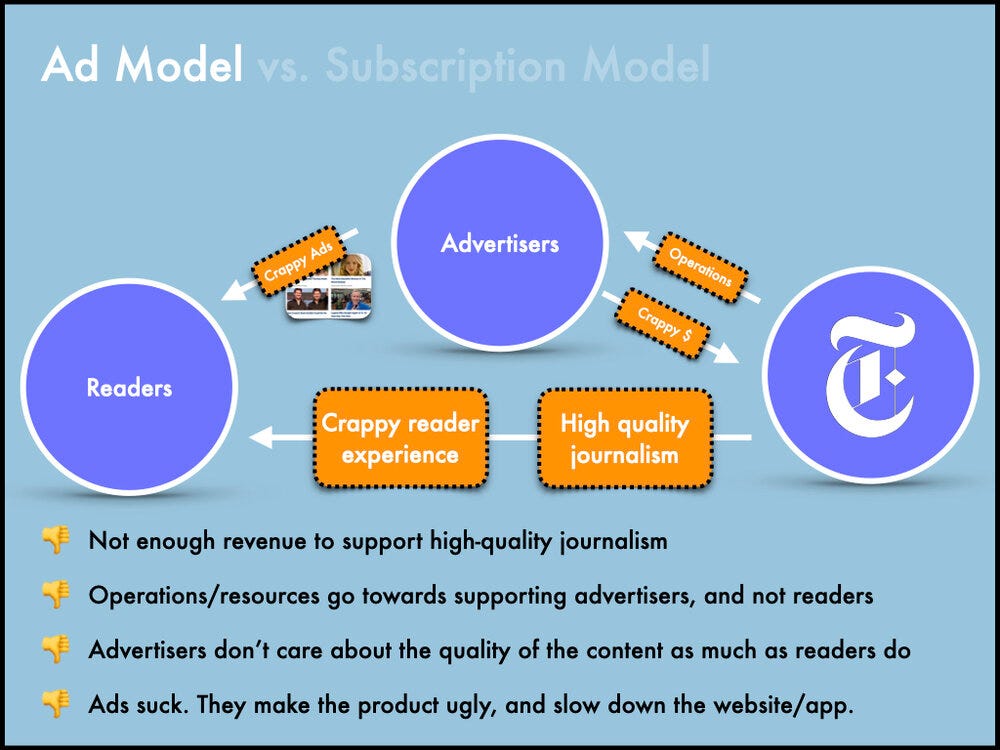 How Subscription Model Works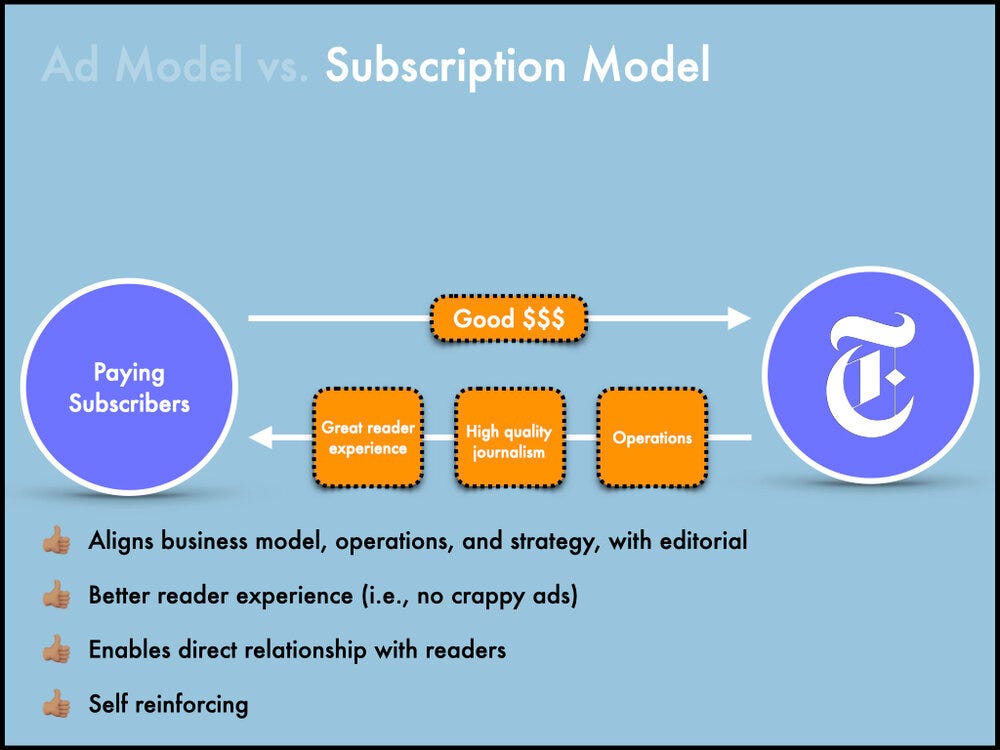 Clean Balance Sheet, Expand Revenue Option
The newspaper sold off "its non-core assets", and cleared its debts. They started exploring other options like podcasts to expand its revenue options. New York Times had focussed only on writing journalism for print. But it diversified and expanded its style for a digital purpose; developing high-quality content on its exciting website or by producing engaging podcast shows.
When your business is stuck, try expanding your horizons. See if there's a possiblity to grow in other field using the skills you already know. If your business is doing good, then try expanding your mode of revenue. Research and analyse. Talk to people and dive.
(Graph Credits:
Mine Safety Disclosures Blog.
©️
All rights reserved.)
Read the detailed report
here
.
---

The Pandemic Update🦠
Chennai🏠
Tamil Nadu
India
World🌎
Economy💰
Media📰🎙️
Entertainment🎥
---

---
The biggest day yet in the history of the United States is just days away. Let's start with the basics.
Here's a look at what the election means to India
A short overview of the election by AP
Social Media is going to play a big role in this election. Here's some major news:
Some other big political news in the US:
---

What to Watch?📺
Some critical analysis of the movie in a political context✊🏻
What to Read?📚
---

Life Skill🧬🛠️
Entrepreneurial Tips👨🏽‍💼👩🏽‍💼🧳
Social Media and Digital Tools🌐📲📶
Media/Internet Literacy📰🗞️🎙️
---
This marks the end of today's edition. See you soon! Stay safe, wear masks, wash your hands, and spread love. Feel free to forward this email to your family and friends. 😊❤️
---
To share this post as a web page, click the button below:
(To become a paid subscription soon!) Wish to read more? Sign up!
I'd be happy to hear what you think about this post.
---