Issue-5: Understanding caste & sexual violence in India
List of essential readings—news reports, studies and analysis—following Hathras case.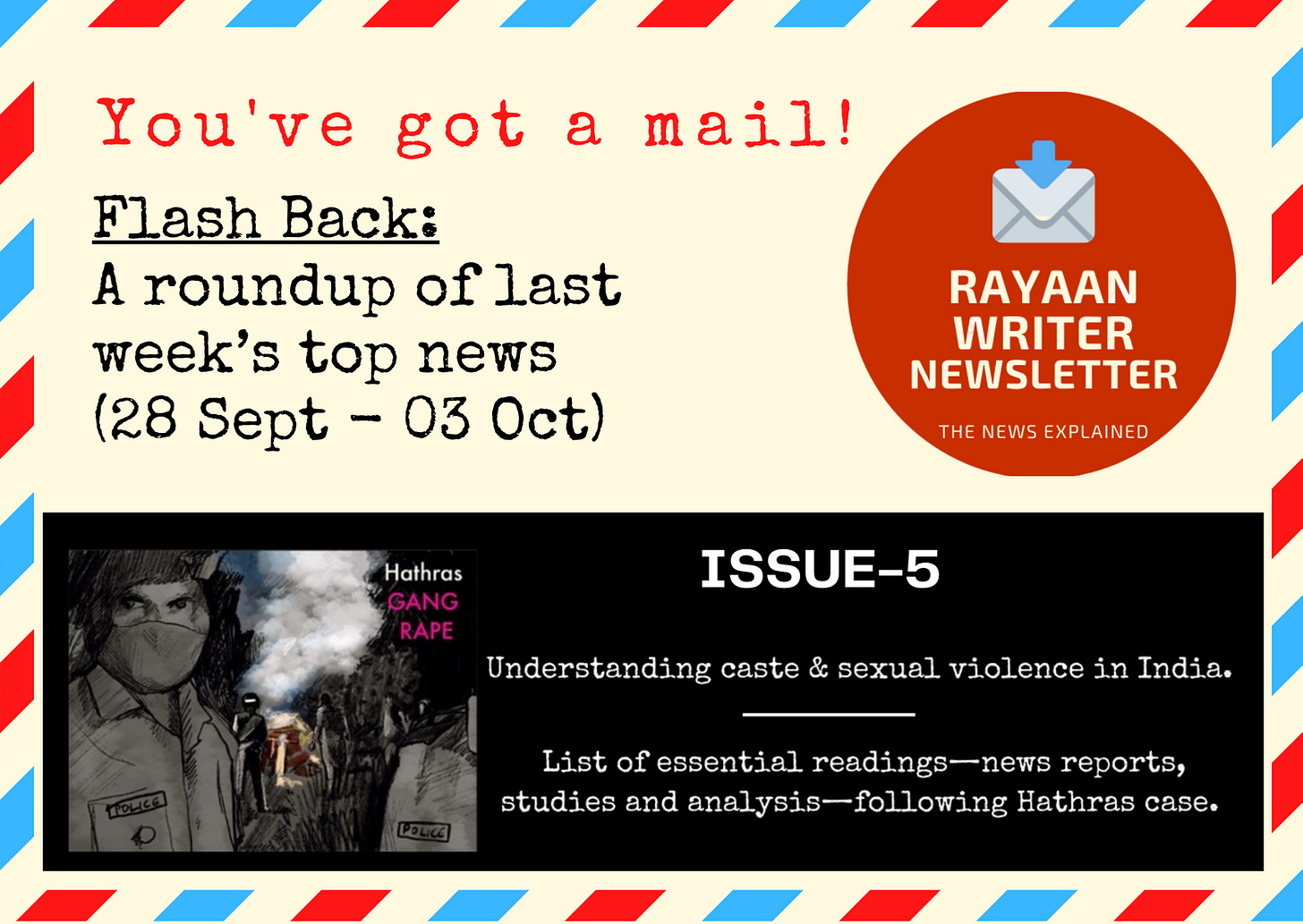 Hello and Welcome to Rayaan Writer Newsletter. This is the Fifth Issue.
Since starting this newsletter, I have promised myself to learn more & become a better writer. To improvise the quality of this newsletter, I decided to do a survey on the news reading habits of my readers. I'll be delighted if you can spare one minute of your time to do this.👇🏽
---

Our nation has been left in turmoil following the news reports of the sexual assault of a Dalit woman by upper-caste men in Hathras, Uttar Pradesh. In this issue, I list out essential news reports and short video documentaries to understand what actually happened. You can also find a collection of opinion pieces and analysis on caste-based violence and the solutions put forth by lawyers and policy-makers.
Ground Report
Law & Order
Analyzing Media
Diving Deeper
Essential Readings on Instagram
A nineteen-year-old girl who belonged to a Dalit community was allegedly raped and brutally killed by four upper caste men. Since then, another Dalit woman has been raped and killed in Balrampur, Uttar Pradesh. This is not just a case of rape. It's a caste atrocity. Read the excerpts of an essay by Jyotsna Siddharth (
@jyotsnasmailbox
). Read the entire essay on our website. Link in bio.
.
.
.
.
.
.
.
#hathras
#castebasedviolence
#violenceagainstwomen
#dalitlivesmatter
By
@psainath_pari
Reported nearly 20 years ago. Are the headlines any different in 2020 though?
'So much for the numbers. What are the steps and the barriers, the process and the perils facing a dalit going to court? That's another story.'
Full story in the bio.
#rajasthan
#rapeawareness
#dalits
#adivasis
---

---

No one destroyed Babri Masjid?!
"Nearly three decades, 850 witnesses, more than 7,000 documents, photographs and videotapes later, a court in India found no-one guilty of razing a 16th-Century mosque which was attacked by Hindu mobs in the holy city of Ayodhya." In a no-surprise verdict, a special CBI court acquitted all 32 accused in Babri Demolition Case. The verdict is yet another feather in the cap for the Modi government which has regularly benefitted from the judiciary system to spearhead its Hindutva ideology.
Babri Masjid Case related readings
After a silly debate, Trump tests positive for COVID-19
It was a disaster. They came, they fought, they left. Trump interrupted again and again. Biden told him, "Just shut up, man!". Trump said, "There's nothing smart about you, Joe". Chris Wallace, the moderator, pleaded, "Gentleman!". Later after the debate, Trump said on Twitter that he and his wife, Melania have tested positive for COVID-19. The news came as a shock for his presidential campaign. Trump had downplayed the threat of the virus on a massive scale, often mocking critics and health experts.
All-in-one basket
Facebook is planning to bring in all its messenger apps into one application. "Facebook is linking DMs on its platform to DMs on Instagram. That means someone can use a Facebook account to message you on Instagram even if you don't have Facebook, and vice versa. It's part of a company effort called "interop:" Facebook wants to tie together the suite of social apps it owns -- Facebook.com, WhatsApp, Messenger, and Instagram -- into one big, happy family" The Hustle reported.
Flying Medical Man
A jet pack is what you might need to save victims who may be lost in a secluded spot, perhaps following an accident. A jet suit for paramedics that would see patients reached in minutes by a "flying" medic has been tested by the Great North Air Ambulance Service.
No rights for Human Rights Group
Amnesty International, one of the world's top human rights groups, shut down in India after it alleged that the government had frozen all its bank accounts and had intimidated its members for years. The government obviously denied the claims.
Disney Land sacks thousands
Owing to the crippling economy and lockdown as a result of the pandemic, Disney Land Theme Parks has decided to sack over 28,000 employees in Florida, Paris, Shanghai, Japan, and Hong Kong.
Compact Power
Compact Nuclear Fusion Reactor Is 'Very Likely to Work,' Studies Suggest. "A series of research papers renews hope that the long-elusive goal of mimicking the way the sun produces energy might be achievable".
David Attenborough graces Instagram
World-renowned environmentalists, David Attenborough made his debut on Instagram, gaining over 3 million followers in a matter of hours.
---
This marks the end of today's edition. See you soon! Stay safe, wear masks, wash your hands, and spread love. Feel free to forward this email to your family and friends. 😊❤️
---
To share this post as a web page, click the button below:
(To become a paid subscription soon!) Wish to read more? Sign up!
I'd be happy to hear what you think about this post.
---