Issue-4: What does it take to be an indie writer?
Interview with author Vimoh. Last week's top news. Donate books.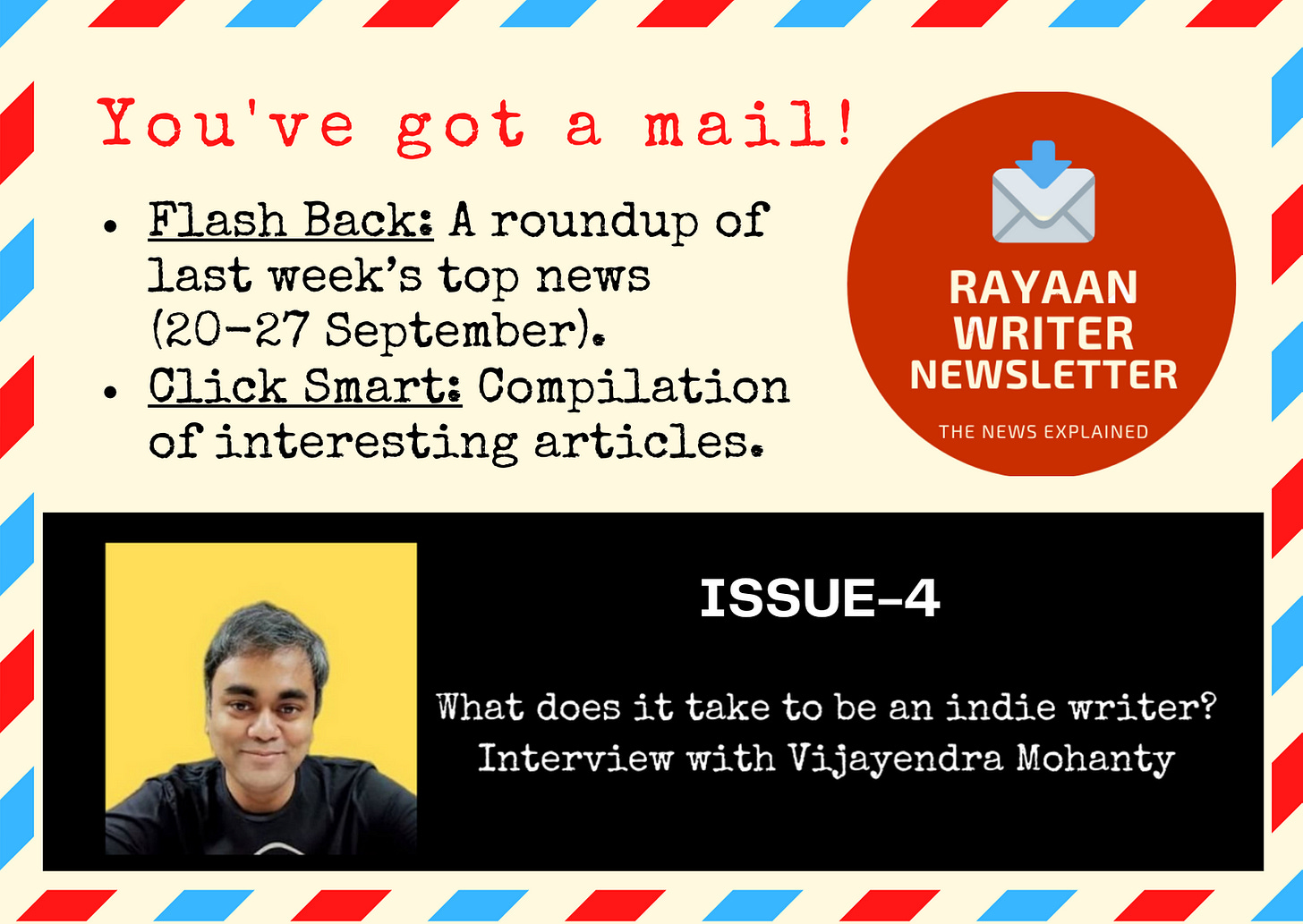 Hello and Welcome to Rayaan Writer Newsletter. This is the Fourth Issue.🤗❤️
---
Since starting this newsletter, I have promised myself to learn more & become a better writer. To improvise the quality of this newsletter, I decided to do a survey on the news reading habits of my readers. I'll be delighted if you can spare one minute of your time to do this.🤗👇🏽
---

I have been following writer Vijayendra Mohanty aka "Vimoh" on Twitter and Instagram for the past few months. Vimoh writes fiction and runs a newsletter covering essays, articles on Indian culture and current affairs. I've enjoyed reading his writings and I decided to talk to him about his work.
Excerpts from the interview:
Q) Can you tell us about yourself?
I am a writer. I write fiction as well as non-fiction. My fiction usually takes the shape of short stories and comic books. My non-fiction appears as essays on my own web publication on Substack. I write about contemporary India, where we came from, and where we are going.
Q) How did your journey as a writer begin?
I have always been writing, so it's not much of a journey in terms of how I got started. But if you want to know my professional history as a writer, then imagine a teenager surrounded by people whose only ambitions in life were to either become an engineer or a doctor and someone who was horrified by both these prospects.

So when he found out that articles and news reports don't write themselves, he thought "hey, this looks like something I could do for a living". So he got into mass communication and became a journalist. And then, after a few years of doing that, he decided to become a writer full-time. He wrote comics and news analysis and eventually, after a lot of ups and downs, got to be a writer who publishes his own work online and makes a modest living off it. The teenager is me, BTW, in case you were wondering.
Q) You write short stories and non-fiction regularly. What do you enjoy writing the most? Can you talk about your favourite writers?
I enjoy writing fiction the most because it feels like work and is followed by a sense of accomplishment. Non-fiction - most of my essays and opinion pieces and the kind of commentary I do on my Substack publication, feels like just thinking. Because I have been writing for a long time, the gap between thought and word on the page is much smaller for me. My favourite fiction authors are Samit Basu and Neil Gaiman. My favourite non-fiction author would be Seth Godin.
Q) How do you start working on a new story or a non-fiction post for your newsletter?
When I am working on an essay, I don't have a process. Sometimes, I am typing on my desktop. Sometimes I am typing on my phone while wandering about my house. It's all the same for me because as I said, it's hardly different from thinking. With fiction, I need a process. So for the duration of time that I am writing a story, I follow some kind of daily discipline—sitting down at a particular time, at a particular place with a very specific piece of music playing in the background. Fiction requires more immersion.
Q) You are active on social media. I have noticed that netizens troll and attack you with threats when you write something about the government. How do you continue to work despite the threats?
Well, obviously it bothers me. How can it not bother you when people are being stupid and hateful at the cost of the future of my country? But one looks past it, at all the other people who also write, speak up, and make their voice heard in these times. I am personally of the opinion that criticising the government when one disagrees or has an issue with a matter of policy is one of the highest duties of the citizen. I have fulfilled this duty when other parties were in power as well. And I am not going to stop just because someone else is in power now.
Q) Why should people support independent content creators?
There is no "should". People should support whoever they want—be they independent or not. And I think independent creators should not expect support without first being worthy of support. Anyone who provides value to their readers or viewers or consumers will get support. 

But having said that, I should add that if we don't support independent creators, we will discourage people from becoming independent creators. And if people stop going independent, they will end up in the same machine that commoditizes creativity and prevents original stories, art, music, from coming into being. Supporting independent creators means supporting the idea of independent art. And that has value.
Q) Can you offer tips to budding writers?
Write. Just write. Stop thinking about writing. Stop wondering if you are good enough or not. Just start writing and finish what you start writing before getting started with the next piece of writing. You are not a "budding" writer. If you write, you are a writer. if you don't write, you are not a writer. Writing means writing. Thinking about writing is not writing. Just start.
Q) Can talk about the responsibility of independent writers?
I try not to tell people what their responsibility is. But it is proving more and more difficult with each passing day. And it's not just the responsibility of independent writers alone. It is every citizens' responsibility. Ever since the internet came, we are all writers. We all write on our FB pages, our Twitter handles our blogs and newsletters. So that is power.

It is an ability to communicate that is not available to many people out there because of the fact that the digital divide is still quite large in India. So to not write about issues that matter is to refuse to do our duty towards each other. The web allows us to talk to each other, communicate, and bring change. Yet, we are all treating it as some kind of glorified TV set, only consuming, not speaking into it enough. And because we aren't, those with sinister motives have taken over and are filling our minds with blatantly discriminatory hatred. The solution is to talk back.
You can subscribe to Vijayendra's newsletter on Substack here. You can find more of his writings on his website www.vimoh.in.
---
Do you enjoy this newsletter? It takes effort to write & I can't do this without your support.

---

---

PM Modi is "influential"… but for all the wrong reasons😵
Times Magazine released its list of influential people of 2020. Prime Minister Narendra Modi was included but with zero words of warmth. "Though almost all of India's Prime Ministers have come from the nearly 80% of the population that is Hindu, only Modi has governed as if no one else matters," it said. The list also had other populist leaders like Donald Trump and Xi Jinping.
Bilkis Banu, one of the "dadis of Shaheen Bagh", who became a symbol of resistance during the anti-CAA protests, was included. In the piece written by journalist Rana Ayyub, a vocal critic of the Modi Government, noted, "Bilkis gave hope and strength to activists and student leaders who were being thrown behind bars for standing up for the unpopular truth in a democracy that was sliding into authoritarianism."
Bollywood star Ayushmann Khurrana, known for consistently delivering heart-warming performances, often portraying unconventional roles, made to the list. Others included Sundar Pichai, Kamala Harris and Dr Anthony Fauci.
Galatta Sabha & the bill that makes you cry🤐
Farmers across the country are protesting ever since the Narendra Modi government passed out farmers' bills which critics say may affect their trading lives and benefit corporates. The parliamentary session was met with uproar by the opposition as they alleged that the government proceeded swiftly with voice votes. "Amidst protests by opposition members, Rajya Sabha TV stopped broadcasting live proceedings and the microphones of all members were muted", reported The Wire.
The opposition parties later held protests which resulted in the suspension of eight MPs including Derek O'Brien. Later in their absence, the Narendra Modi government, in the span of just three and half hours passed, "seven key bills including one that removes cereals, pulses and onion from the essential commodities list and another that abolishes penalty for certain offences by companies".
Harley shuts store, returns to town🏍️🔐
Legendary motorbike manufacturer Harley Davidson decided to call it quits here in India due to the low demand of its bikes. The announcement came just a few weeks after another automobile giant Toyota decided to stop expanding in the country. Federation of Automobile Dealers Associations of India (FADA) said that "Harley-Davidson's India exit will impact 2,000 jobs across dealerships".
All the black money in the world🤑💰
"Leaked documents involving about $2tn of transactions have revealed how some of the world's biggest banks have allowed criminals to move dirty money around the world," BBC reported. "They also show how Russian oligarchs have used banks to avoid sanctions that were supposed to stop them getting their money into the West. It's the latest in a string of leaks over the past five years that have exposed secret deals, money laundering and financial crime".
COVID is messing our mental health🧠
What would happen if you are bombarded with a consistent dose of sad news; from rising pandemic cases to severe economic conditions? You get depression. Scientists have conducted studies about the impact of the pandemic on our mental health and are calling for ways to respond. The coronavirus cases in India clocked 6 million.

Reel-life, real-life: Bollywood under scanner🕵🏼‍♀️
It's been 3 months since Bollywood actor Sushant Singh Rajput died by suicide. The unfortunate incident has now been twisted by people with vested interests. The bizarre and vile style of reporting by TV news channels has been criticized. The media witch-hunted actress Rhea Chakraborty, alleging that she mentally harassed Sushant, thereby abetting his suicide. Rhea was later arrested by the Narcotics Control Bureau.
Meanwhile, actress Kangana Ranaut started her own campaign, twisting the narrative behind Sushant's death, going on to claim that actors and filmmakers in Bollywood use drugs. This led to more actors being called by the authorities for questioning including Deepika Padukone. Most of news channels have ignored to cover other vital issues like the crippling economy, India-China border crisis, the farmers' protest in North India, and the worsening coronavirus situation.
Voice of the nation passes away💔
Legendary singer SP Balasubrahmanyam or SPB passed away, aged 74. Known for several iconic songs, the pan-Indian star sang over 40,000 songs in over 16 languages. Following the announcement of his death, celebrities, politicians, and fans poured tributes. The singer was buried with state honours at his farmhouse near Chennai.
The Ellen Show: 2.0🥳?
Ellen Degeneres took a hit this summer when reports emerged that her show had a "toxic" work culture. She returned to host a new season, acknowledging the bad limelight and appearing to take responsibility. While some supported her, a few sections of netizens were skeptical, calling her message 'scripted'.

Textbook guide to saving democracy📖
Analyses of India's pandemic response🦠
Work from Home now feels so toxic💻
Kids, take care of your mental health🐣
Eye spy the internet🌐
Do good; Donate books📚
---
This marks the end of today's edition. See you soon! Stay safe, wear masks, wash your hands, and spread love. Feel free to forward this email to your family and friends. 😊❤️
---
To share this post as a web page, click the button below:
(To become a paid subscription soon!) Wish to read more? Sign up!
I'd be happy to hear what you think about this post.
---