Issue-1: Viral Factor of the Internet, explained
Also, read the top news from 1-6 September and the 'Click Smart' section.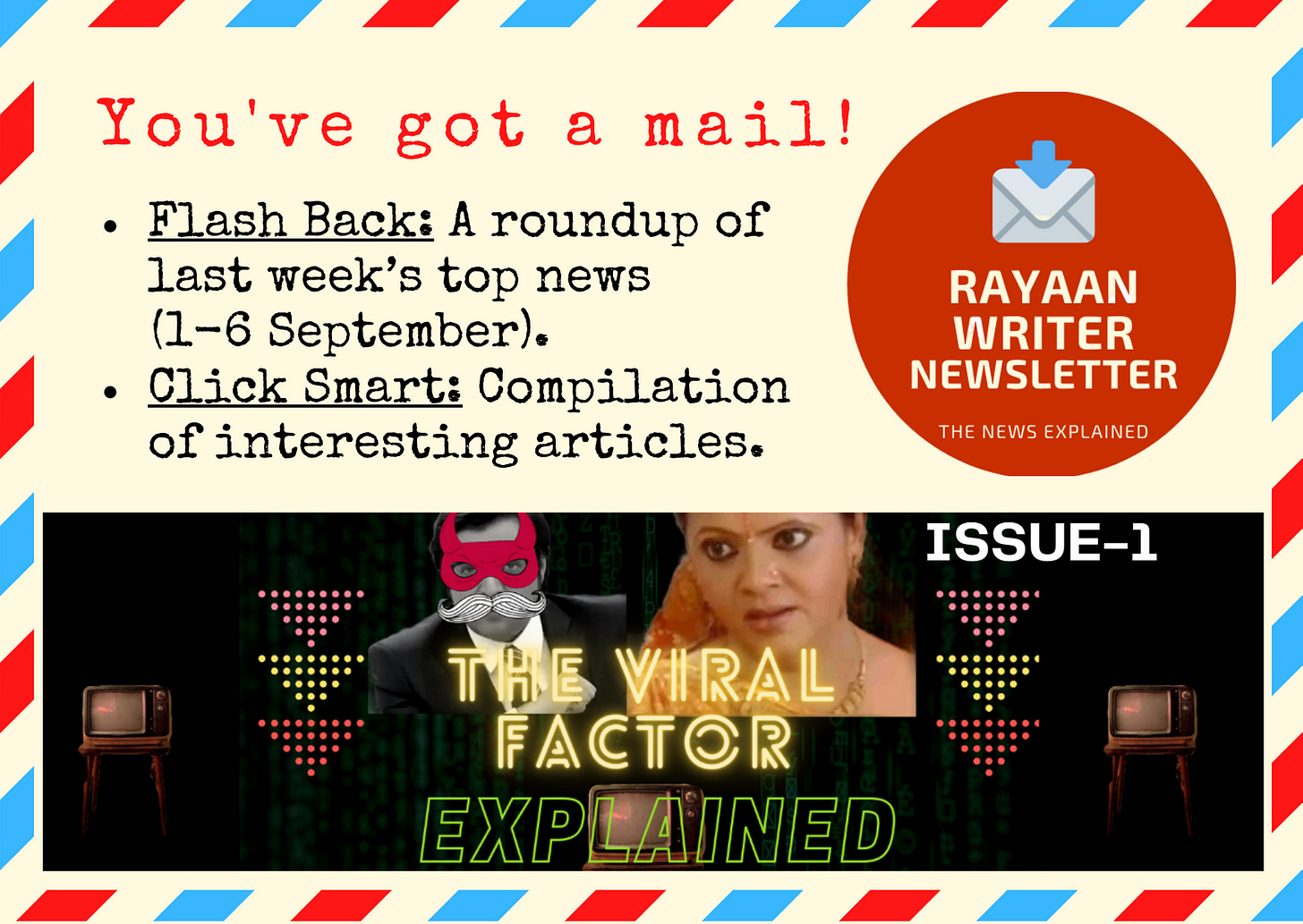 Hello and Welcome to Rayaan Writer Newsletter. This is the First Issue after making a few tweaks. I hope to keep you engaged.
---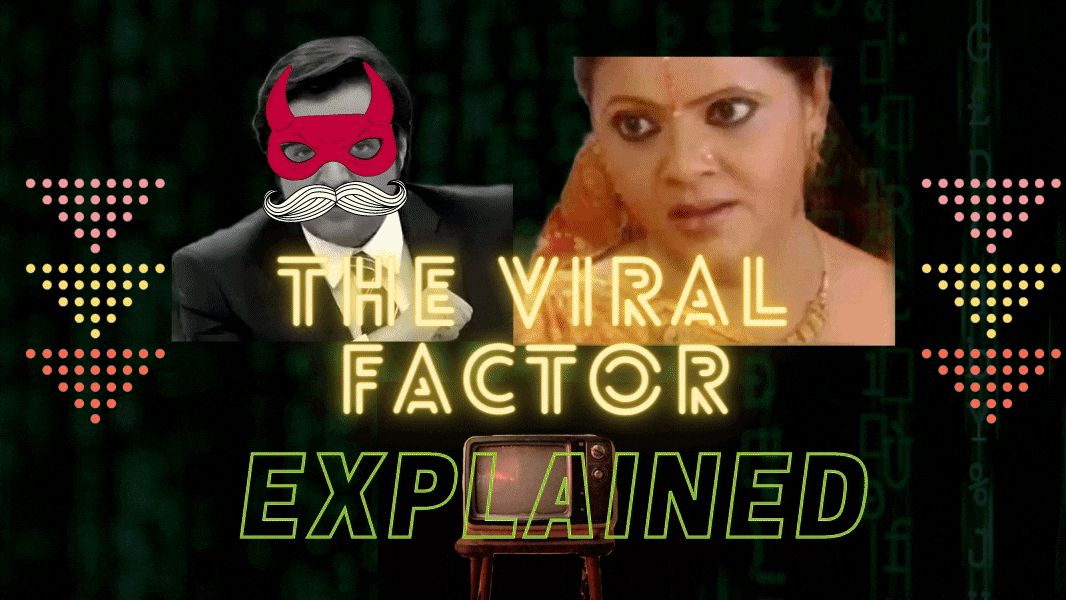 The Story
For the past few days, the only thing that keeps coming to my head is "Rasode Pe Kaun Tha?". This dialogue from a Hindi serial has taken netizens across India on a never-ending viral storm. Now, there are dozens of Rasode-inspired mashup music.
Also becoming viral every day are the news clips by TV channels covering Sushant Singh Rajput's death and the constant attack on actress Rhea Chakraborty. In one viral clip, a journalist is swearing out loud live on air while in another, a resident is seen pushing and scolding a TV reporter for shoving mic into his door.
The Question
Why is that some clips become viral? What are the factors that make a video become viral? And more importantly, what is our role, the social media users, in making something viral? I did some reading and here's what I found.
The Answer
The "Rasode Pe Kaun Tha?" clip perhaps started as a joke. Maybe someone shared it and posted how lame and funny it looked. It spread like a wildfire as the melodramatic performance of the stars left netizens in splits. The clip then got its upper hand when meme-creators remixed it with catchy background music, making it more hilarious. Eventually, web-based media re-shared the clip and reported on its viral success.
In an article published by Harvard Business Review, the magazine cites an analysis conducted by Unruly, a marketing technology company, which found that there are "10 motivations for social sharing".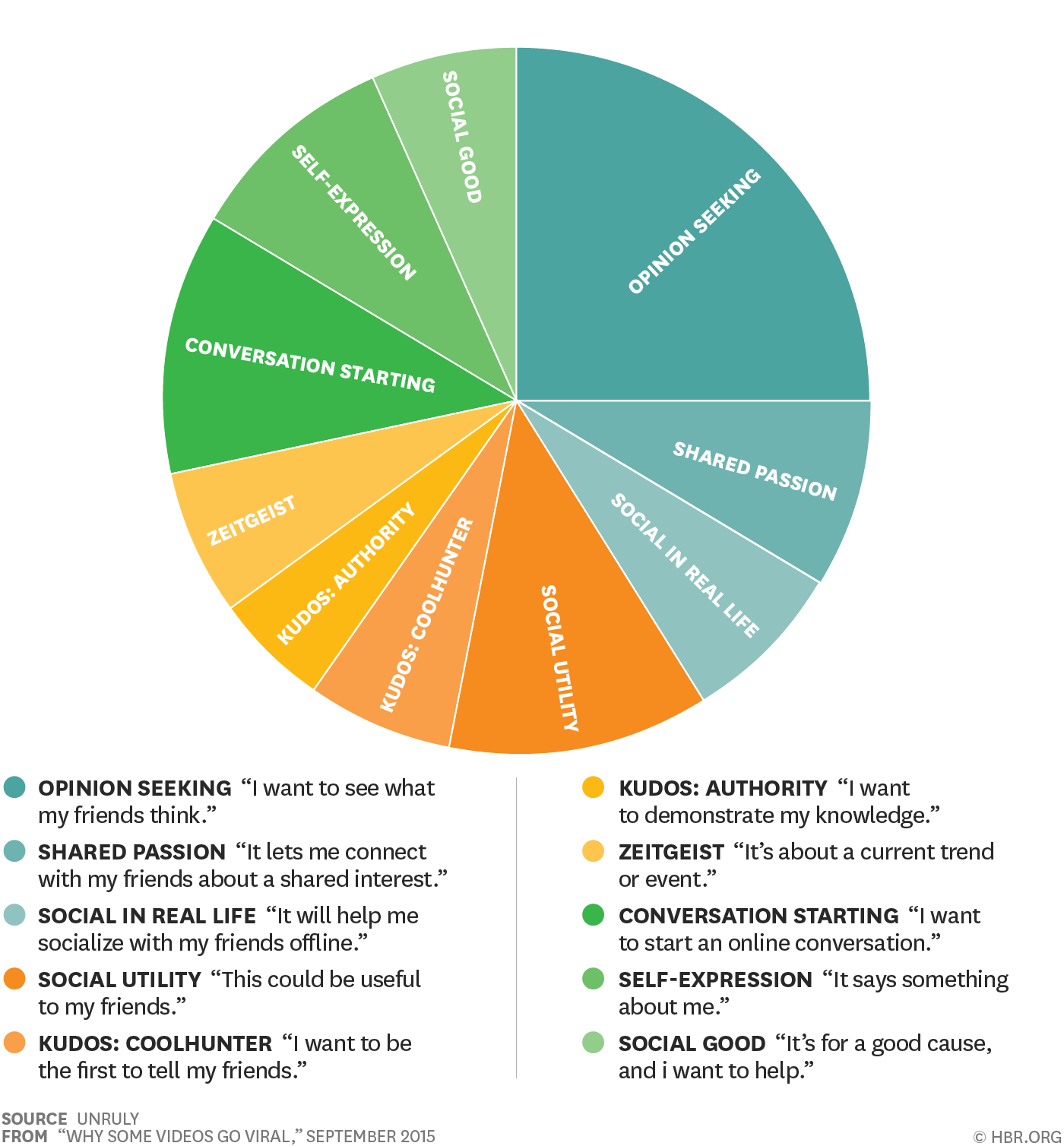 Likewise, in another article published in TNW, the report cites an analysis conducted by acclaimed Wharton marketing professor Jonah Berger. According to Jonah, it all boils down to human emotions. While watching the "Rasode Pe Kaun Tha?" clip, we probably laughed hard at the exaggerated acting. It was funny and it made us share the clip.
The same can be said, perhaps to a communally charged hate-filled clip spoken by politicians or by trolls. Their clips are designed to enrage us and it starts with the narrative of "Us Vs Them". We share it with our family and friends in anger and the rage spreads everywhere.
Viral things across the internet have several emotional cues that are designed to make us either laugh or motivated or else really furious. They also have click-bait headlines that tap our reaction. This is why it's important to check our behavior before sharing anything.
The Solution
For every viral thing across the internet, it falls down to how we react. Before sharing anything, one of the important things you can do is asking yourself these questions.
Why am I sharing this?

Will this post help someone?
If the video is a hate-speech, then its essential to break the viral chain by not sharing it. Take a deep breath and assess if the post is true (I wrote an article on busting fake news which you can read here). Journalist Shivam Vij once wrote a series of threads on Twitter.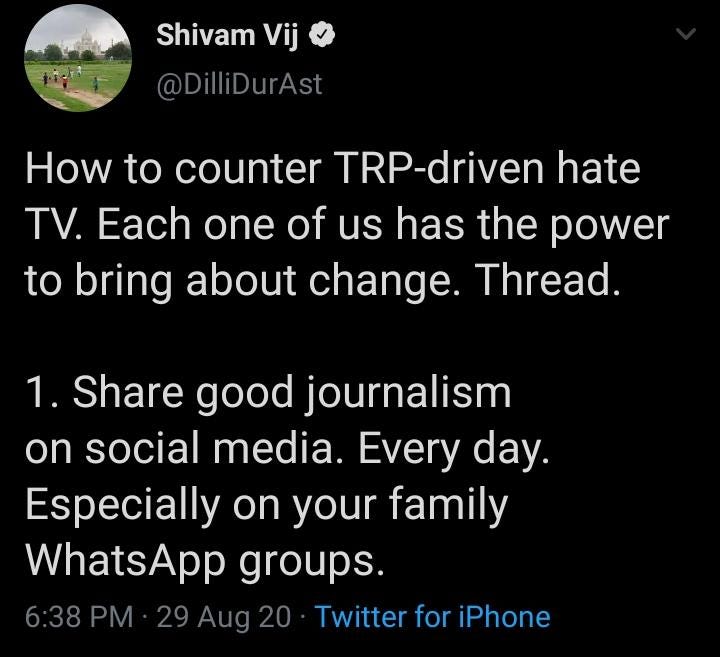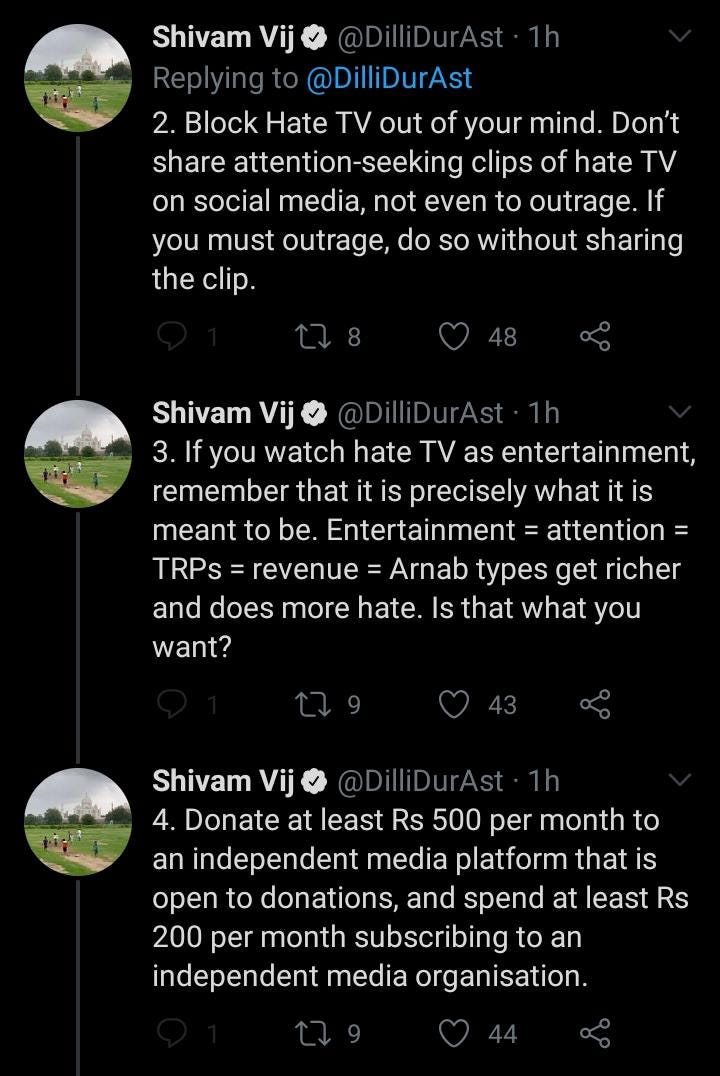 So before you press that "Share" Button, do everyone and yourself a favour by taking a deep breath and ask, "Will this help someone?".
---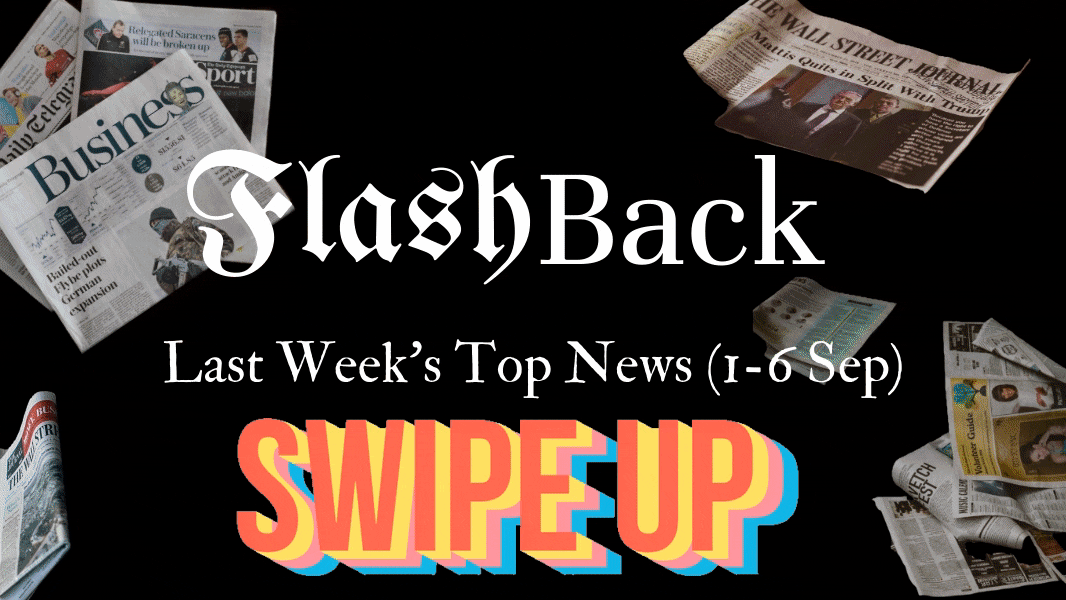 Coronavirus🦠
India crossed a grim milestone of 4 million cases. For the past few days, the country has seen a daily spike of nearly 90,000 cases a day. Experts now predict that India could soon become the worst affected nation. Despite the rising cases, the government has started easing the lockdown and has opened public transport systems and spaces such as malls, in a bid to save the crippled economy. As always, scientists continue to vouch for social distancing, wearing face masks, and regularly washing hands as the best weapon against COVID.
National Politics👆🏽
The Modi-government made heads turn when it decided to sack the "Question Hour" in the monsoon session of the parliament, citing the risk of the ongoing pandemic. As the name suggests, it is the hour in which opposition members of the parliament ask questions to the government. According to The Lok Sabha Website, "Every Minister whose turn it is to answer questions has to stand up and answer for his or his administration's acts of omission and commission". The cancellation has naturally fuelled up the opposition parties.
Foreign Affairs🌏
The India-China border clash took an ugly turn yet again when Chinese troops intruded the disputed borders in August-end. Both nations have held talks to solve the issue. However, Live Mint reported, "The commander-level discussions failed to yield a breakthrough on disengagement, de-escalation. The meeting came two days after the defence ministers of India and China met in Moscow." I earlier wrote an explanation of the crisis which you can read here.
Economy💰
As the pandemic continues to go crazy, our economy is now in shambles. India's Gross-Domestic-Product (GDP) contracted to -23%. It means that there are more job losses, extreme financial hardship for millions of citizens, and investments in varied sectors are minimal. Finance Minister earlier said the poor economic condition was an "Act of God".
World🗺️
Shinzo Abe retired as Japan's Prime Minister owing to ill-health. Abe is perhaps widely recognized globally for his "Abenomics" economic policies and his revisionist views on Japanese history. It is now widely predicted that Abe will pass on the role to his right-hand man Yoshihide Suga, one of the top leaders working in his administration.
Entertainment🎭
Marvel is now working hard to figure out how to proceed without Chadwick Boseman for the Black Panther sequel. According to reports, only a few close circles of the late actor knew about his health conditions.
Sports🏅
Cricket🏏: BCCI announced the schedule for the highly anticipated IPL 2020 to be held in UAE. The tournament will kick start on 19 September in Abu Dhabi between defending champions Mumbai Indians and Chennai Super Kings. You can find the match dates here.

Tennis🎾: Novak Djokovic faced a shocking exit from the US Open after hitting the line judge (unintentionally) with the ball and was disqualified. "A player outside of Djokovic, Federer and Nadal will win a major for the first time since Stan Wawrinka won the US Open in 2016," BBC reported.
---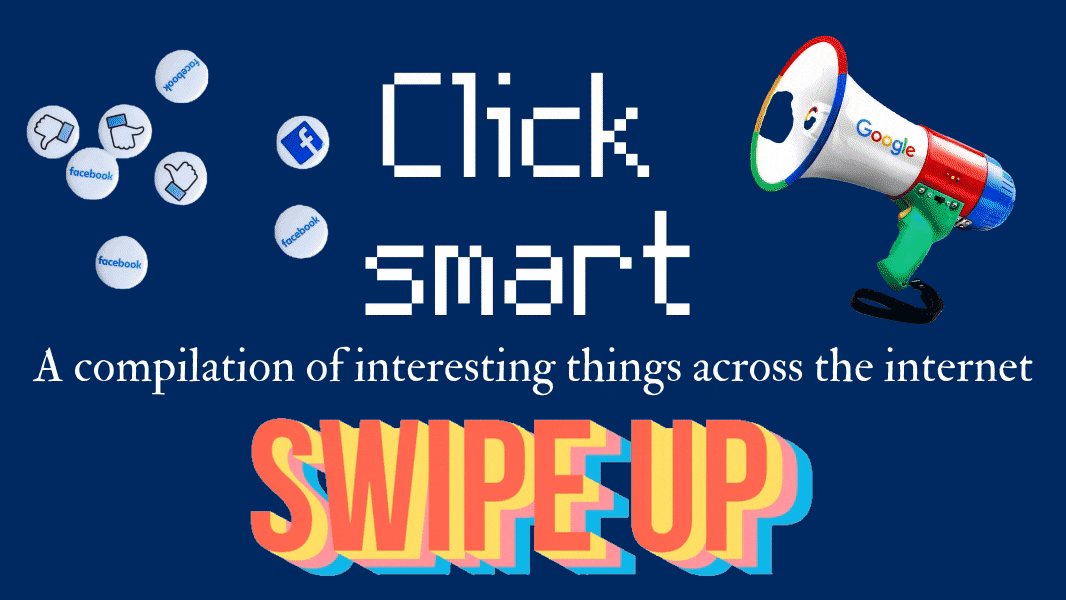 READ📖:
Investigative Journalism🎙️📺: Inside Arnab Goswami's hell hole called Republic TV. In this incredible report by News Laundry, they find "How the media mogul's inflated sense of self-importance, 'nepotism' and political partisanship drive Republic TV's coverage – and drive away its staff". The report details how the channel functions, how Arnab mentally tortures his team of journalists, how he forces them to twists news reports and peddle stories with one-sided agenda. It's an eye-opener. Read here.

On Media Wisdom and Mental Health🧠📰: Rega Jha is one of my favourite writers who pens a fortnightly column for The Times of India. She was the founder and editor-in-chief of BuzzFeed India. In this piece, "Pay attention to who's asking for your attention", she talks about the constant distractions created by media. She beautifully explains how we should focus on important issues such as the migrant crisis, economic problems, among others, that are deliberately left out by TV channels. This is a must-read, especially at a time when news channels have reached a new low in India. Read here.

An investigative piece on the vilification of Rhea Chakraborty🗞️👩🏻: "Inside the online cult of #JusticeforSSR: The story of three men united by their fever-pitch resentment towards Rhea Chakraborty, and their anger and grief at the death of a Bollywood star". In this piece by News Laundry, the journalist finds how these sexist and bigot-fuelled internet trolls are working hard to attack Rhea. It shows the sad state of India's youngsters who have become deranged with sick and clouded-maturity, after constantly watching hate-mongering TV channels. Read here.
Economy💰: If you are wondering that the GDP contraction won't have much impact on you, then you are wrong. Newslaundry explains in, "How will India's GDP contraction impact you?", that one way or the other, the weak economy will surely be felt by citizens. It's high time for us to be financially smart. Read here.
Features📰: "Meet the "menu engineers" helping restaurants retool during the pandemic. In a changing dining economy, restaurants are turning to a small group of experts who specialize in the science of menu design." The Hustle speaks to creative entrepreneurs who create and develop menus for restaurants, amidst the pandemic. Read here.
Watch🎬🕴🏼💥👇🏽:
The New James Bond Movie Trailer.
---
This marks the end of today's edition. See you soon! Stay safe, wear masks, wash your hands, and spread love. Feel free to forward this email to your family and friends. 😊❤️
---
To share this post as a web page, click the button below:
(To become a paid subscription soon!) Wish to read more? Sign up!
I'd be happy to hear what you think about this post.