How to be awesome on social media?
A dummies guide to fighting fake news and spreading love across the internet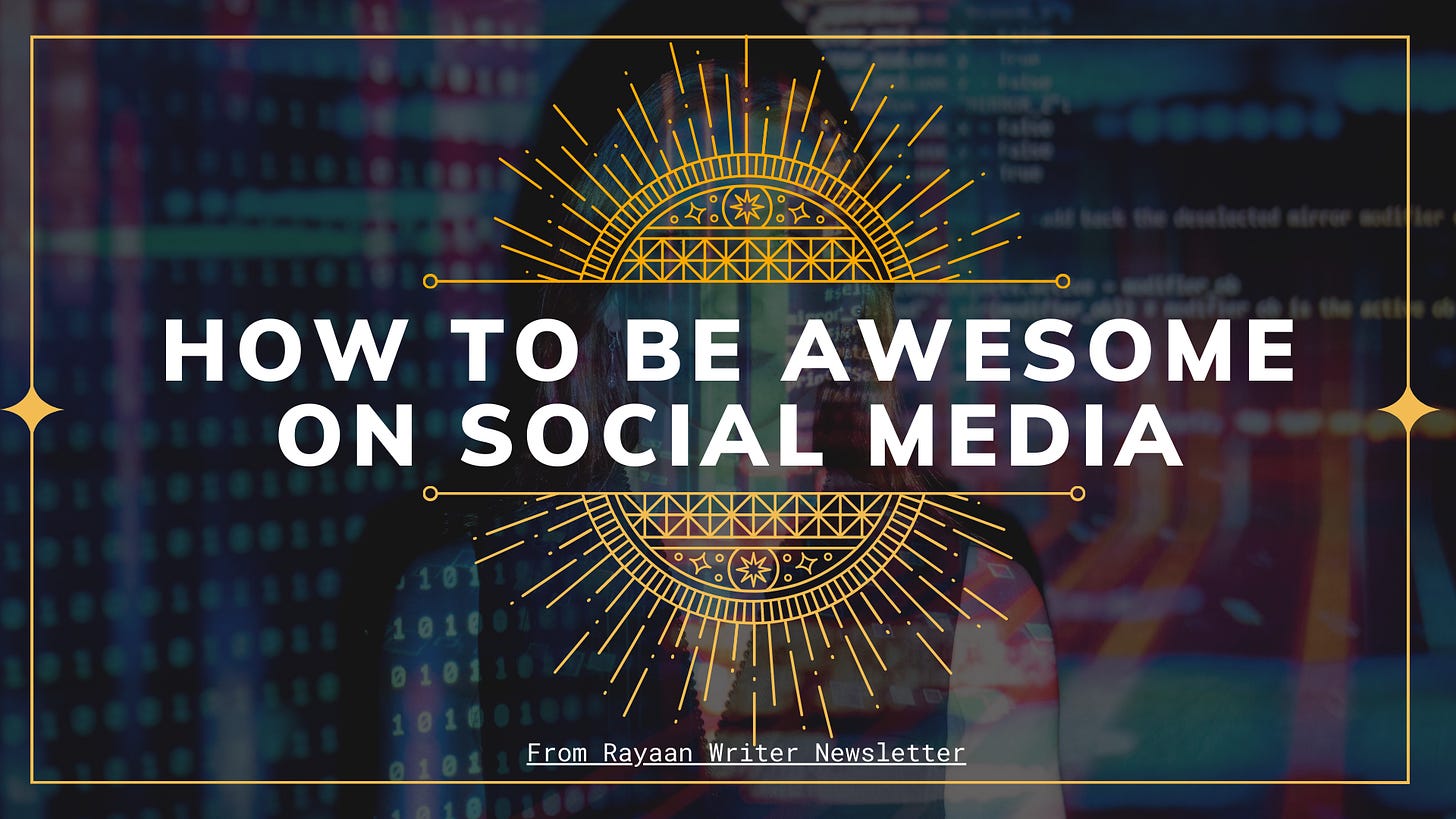 Welcome back to Rayaan Writer Newsletter!
(My dinosaur-era laptop finally decided to conk out last week and I was forced to delay my substack correspondence yet again. But hey I'm back! Thanks a ton for waiting!😊)
In this edition for the "Mind Slice" section, I talk about how to be awesome on social media; it's a dummies guide to fighting fake news and spreading love across the internet.
---
Trolls and fascists work hard to create diversion and mayhem. They use every weapon at their disposal to spread rumours across the internet. Here in India, fake news has turned people into murderers, has played an active role to destabilize elections, and has fueled mob lynching across several states.
The onslaught of misinformation appears to be endless. Now, thanks to the coronavirus pandemic, fake news has thrived a lot faster, paving the way for pseudoscience and bull shit to become more acceptable. Boom Live, a fact-checking media house, conducted a recent study and found:
"... a bulk of the COVID-19-related fact checks were on communal rumours, most of which were false allegations against Muslims, of purposefully spreading the virus. These messages appeared in April, after several members of the Tablighi Jamaat - an Islamic Missionary group, tested positive for the virus following a massive congregation in Delhi in March."
As citizens and as users of social media, it's our moral responsibility to be cautious of the content we share online as lives literally depend on it.
Be Skeptical
One of the best mindset to have when you receive news from a family or friend on social media is to be skeptical. We tend to assume that any information is true if received from a known person. However, it's essential that we start answering questions listed below to verify the authenticity of a news.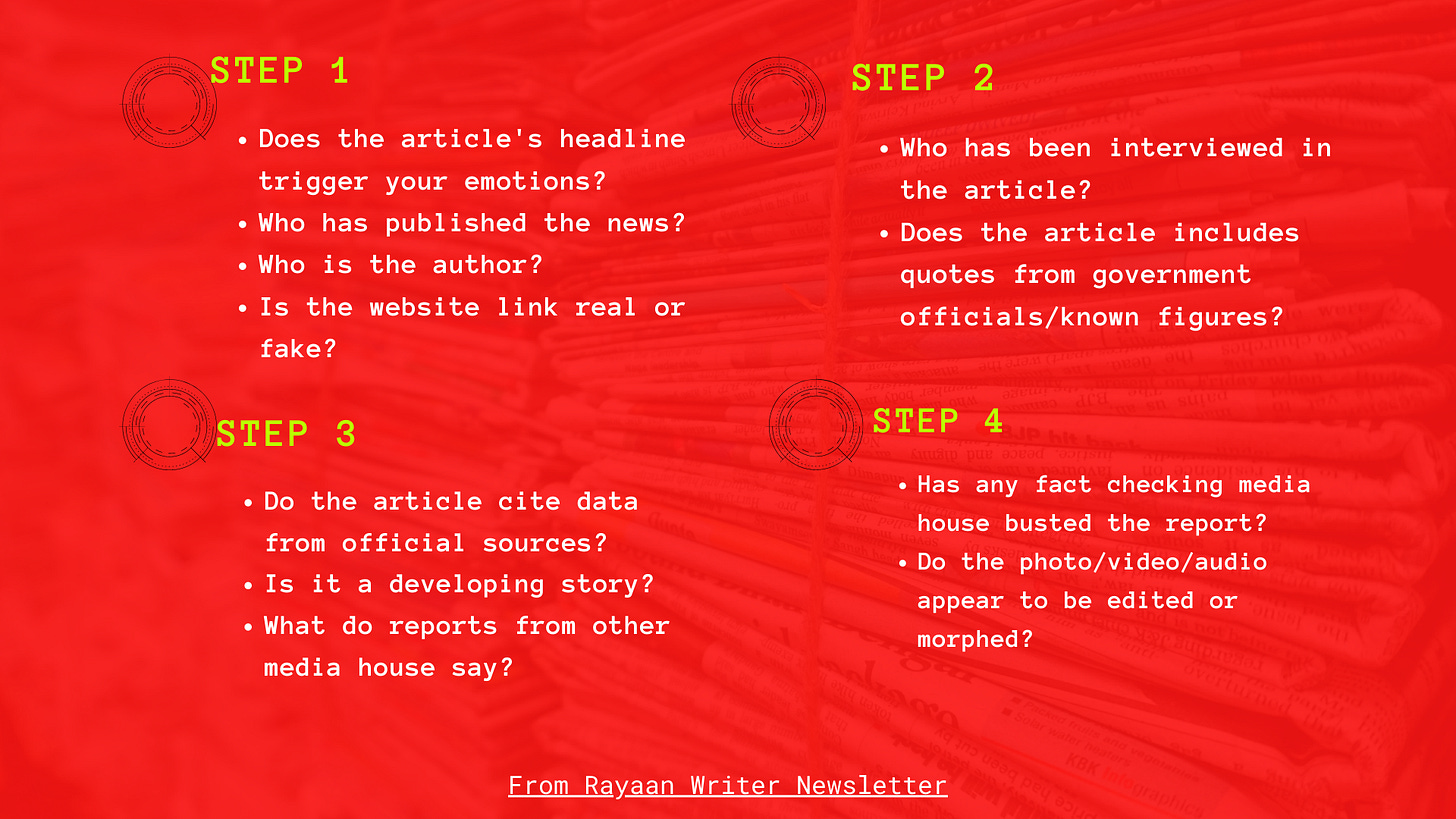 Always read, watch or listen to the received piece of news in its entirety. Cross-check for its authenticity by reading reports from multiple sources. If it's a breaking story, it's advisable to wait for reports from varied media outlets before sharing. If you are still doubtful of a news report, then do not share.
Cracking 'WhatsApp University'
India has over 200 million WhatsApp users. For millions, it has become the primary source of news. However, it's flooded with fake content and it is extremely hard to verify as the platform enables encryption of messages.
A few media houses like Boom Live, Alt News, The Quint are on WhatsApp. You can add their numbers to get articles directly to your WhatsApp or to verify news.
WhatsApp Users appear to trust news without fact-checking them if they receive it from a relative or friend. To curb fake news on its platform, WhatsApp Inc has written an article. Listed below is its brief version covering vital points.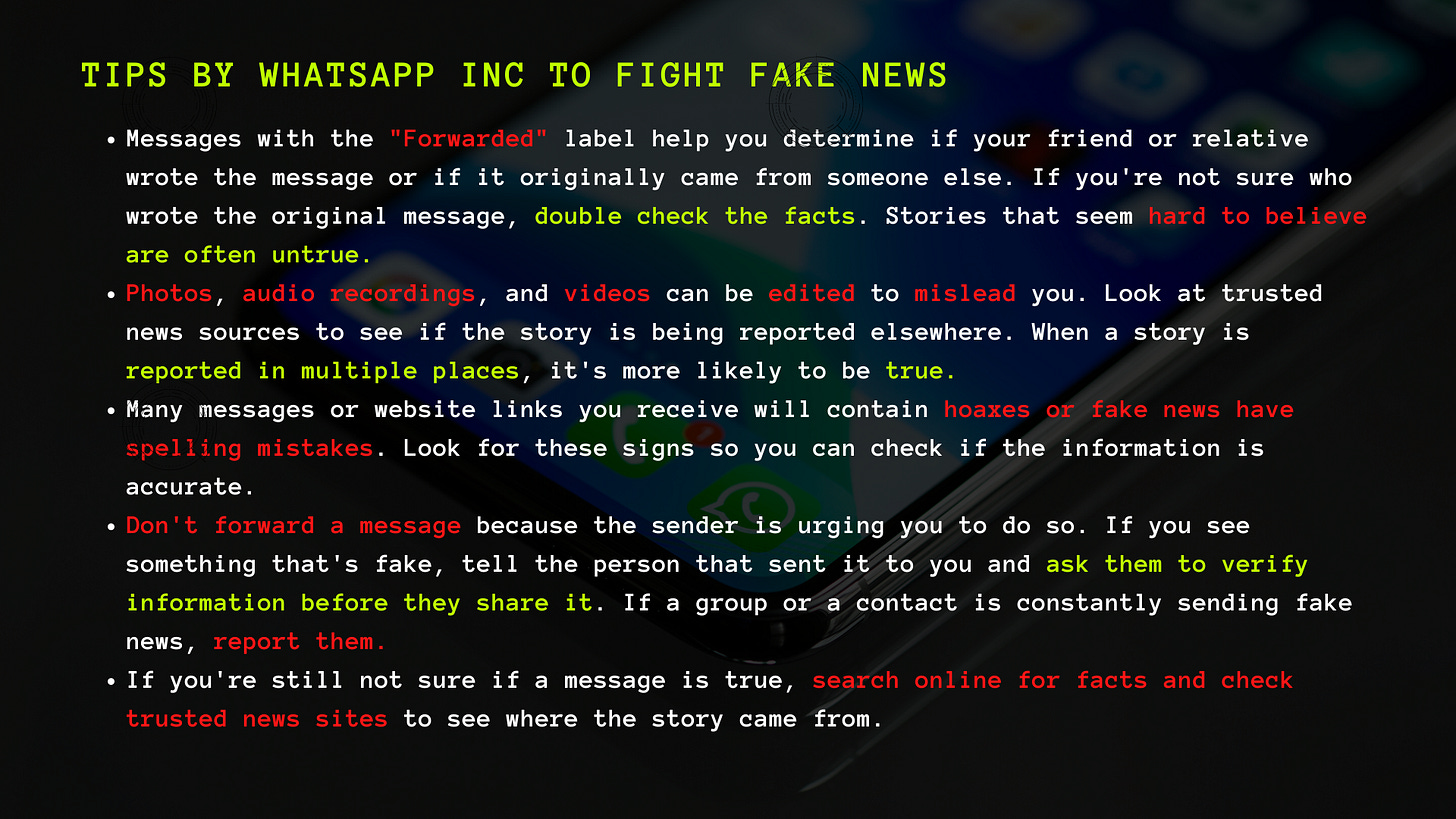 Perhaps you have a relative or a friend who blindly believes whatever information he/she gets. If you know someone, reach them out privately and share authentic news. Remember, people tend to listen if you correct them privately and politely while some might get pissed off if you do so in public, like commenting on their FB posts or WhatsApp group, as their ego is bruised.
The art of spreading digital love
When I started promoting my newsletter on Instagram, I was overwhelmed by the response (Oh yes, I was high on dopamine!). Many of my cousins and friends reshared my posts, asking their followers to subscribe. A school friend, with whom I had lost touch, went beyond her way to give me a digital shout out.
This simple gesture gave me so much hope; it made me realize that even if I don't have a massive following online, I still have a small yet strong circle of family and friends who are willing to help me thrive in my career as a writer. It also made me think that being awesome on social media meant, having good intention to spread love and hope to people around us.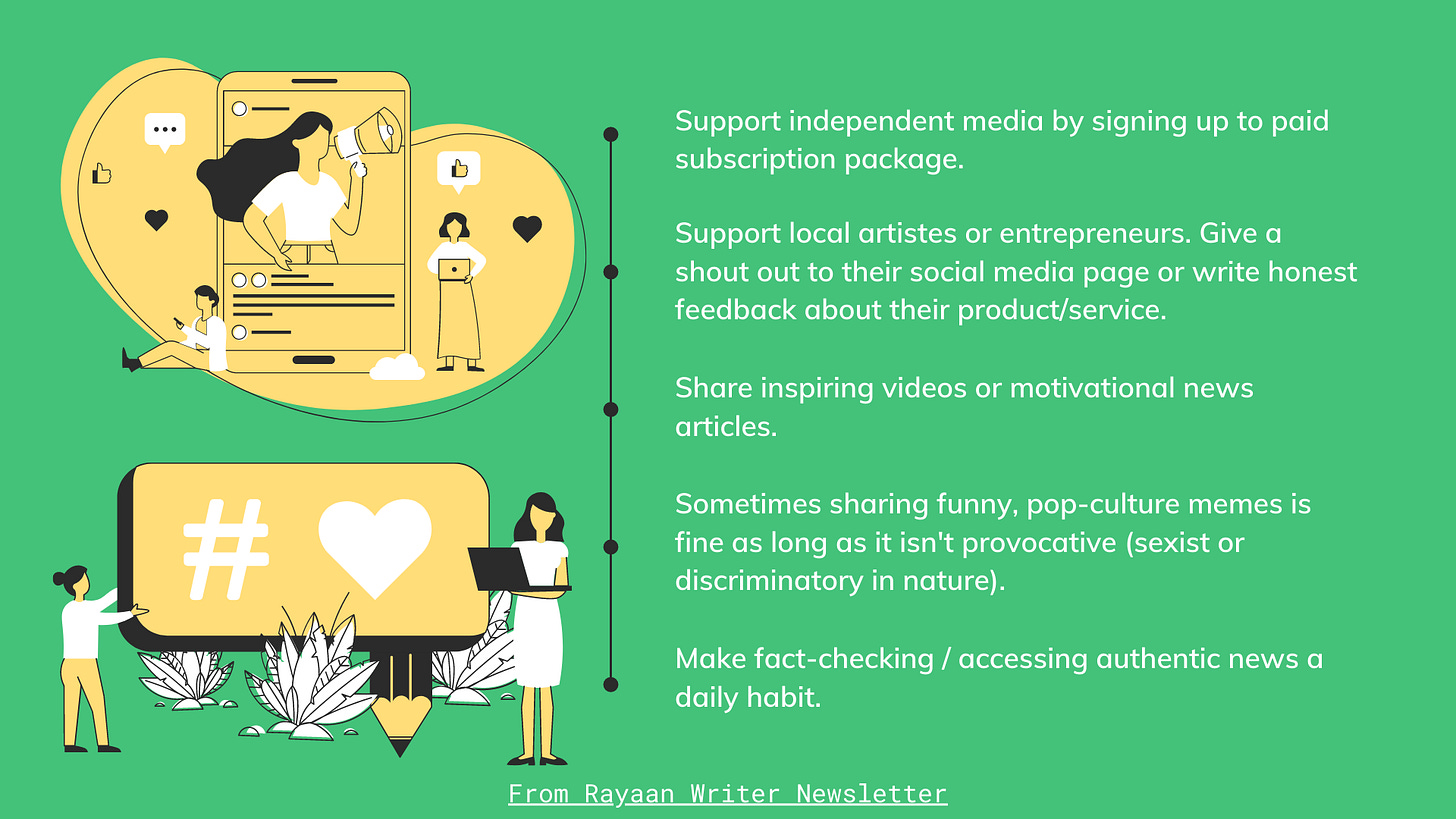 Think twice before sharing
In an era of Likes and Shares, our brains have become adapted to feel satisfied when we hear a notification tone. As a result, I have seen people share status or stories on social media just to stay in the buzz to the latest trending news and get noticed by their contacts.
I have seen people excitedly share status in praise of cops after the encounter of the four accused in the infamous Hyderabad veterinarian rape case. They hailed their 'bravado' for offering instant 'justice'. I then saw the same people cry in dismay to the encounter of the criminal Vikas Dubey by the Uttar Pradesh Police.
Is this the newest form of hypocrisy? Do our social media habits reflects who we are as a person? Scientists have conducted extensive studies on our brain's reaction to social media.
"According to an article in Social Cognitive and Affective Neuroscience, accruing likes on Facebook, Twitter, or Instagram causes activation in brain circuity implicated in reward."
Perhaps this proves, why we spend a long time checking the views of our status on social media or how many Likes our posts have grossed. We often tend to lose our judgment whenever a heavy dose of emotional neural reaction clouds our senses. So when something big or scary or hopeful happens and it becomes the next talk of the town, take a deep breath, pause and ask yourself this two important question before sharing on social media:
Did I fact-check the news?

Will this information help somebody?
Spread hope
Let's be honest; 2020 sucks! There are so many absurd and weird things happening everywhere. Every day is a war on social media; we are bombarded with reports on the latest controversy by a politician, a troll issuing rape threats, a disturbing graphic video of someone being lynched, or else a communal hate speech. They have become so common that it's as if our collective consciousness is okay to see someone in power to openly abuse and lash against the oppressed.
But here's the thing; for every divisive, hate-filled post, there is an equal amount of information on love and hope. The suggestions I gave above, the tips to fight fake news, may look a bit hard to catch. But that's alright. It takes time to practice and spot fake news with a sharp eye.
As we stay at our home more often due to the pandemic, our digital lives will naturally increase. Hence, it's high time to be awesome on social media during this depressing period. It is in our hands to control the flow of hate speech and fake news. It is in our hands to help each other with the power of the Internet.
---
Bam! This marks the end of today's newsletter.
See you soon! Stay home, stay safe, wash your hands, and spread love.😊❤️
---
To share this post as a web page, click the button below:
If you loved this newsletter and wish to read more, then do subscribe!
I'd be happy to hear what you think about this post.